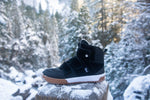 We've received a lot of questions about our shoes so we wanted to clear some of them up here.  See below for some questions and answers:
Do you have plans for a size 13 or larger?
Not at the moment.  Our shoes cap out at size US 12 / Euro 46. They will also stretch out a bit and form to your foot after a couple times wearing them.
Do you have a women's line?
Our shoes are unisex and can be worn by men or women, but we do not have a dedicated women's line.  A general rule of thumb is to order a men's size 1.5 sizes smaller than your usual women's size for a good fit.
Are they weatherproof?
Our shoes are lined and treated for water resistance, and heel/toe capped with EVA for added weather protection.  When you're wearing Sengers, you're good to go no matter the conditions.
Why don't your shoes have laces?
Laces come untied and get wet in the snow/slush.  We went with velcro straps for easy slip-in access after a day on the mountain.
How comfortable are they?
We've been told our shoes feel comparable to stepping into a warm fluffy cloud, but we'll let you be the judge of that yourselves.
Will they really keep my feet warm?  
They've been tested out on the Inca Trail in Peru, the Sierra Nevadas, the Alps, and the coldest conditions Colorado/Utah can throw at them, and have answered that question with a resounding "yes".
Where are you located?
We're based out of Southern California.