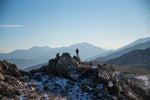 Today is the unofficial start of our 3rd season of Senger. Since we started out, we've grown from 1 colorway to 3 colorways of our signature Senger Scout, a line of soft goods including hats, beanies, and crewnecks, and now, a redesigned website.
As we start off our 3rd season, the World is currently evolving and adapting to the ever changing Covid-19 pandemic. To say we haven't been affected would be an understatement. As a small business that the two of us personally self-fund, we're used to the constant hurdles any up and coming company would face. While the onset of Covid-19 in March 2020 definitely hurt us on a personal and business level, we couldn't be more excited for the Winter 20/21 season ahead.
From now through November 30th, 2020, we're offering 15% off site wide as a thank you to all our friends, family, and customers who have supported us the past few years, and especially recently. Without your support, we wouldn't be able to live out our passion and be where we are today. And of course, thank you to all our stores who believe in us and continue to carry our signature Senger Scout. 
To enjoy 15% off, please use code "SengerThanksgiving" during checkout.