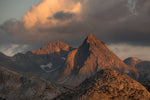 We've witnessed explosive growth in outdoor industry over the past 5, 10, 20 years. More and more people are enjoying and exploring the natural environment all around us than ever before. As interest grows, cities are trying to react and develop plans for the current and future wants and needs of the industry and enthusiasts. At Senger, we've personally observed and experienced the changes over the years, both good and bad, as we've travelled to some our favorite spots for hiking, backpacking, skiing, snowboarding, etc. We decided to choose two land conservancy organizations that connected to us on a deeper level.
Eastern Sierra Land Trust
The Eastern Sierra Land Trust is based in Bishop, Ca, a mere 40 miles from our adopted "local mountain" of Mammoth Mountain. We grew up driving historic Highway 395 along the Eastern Sierra corridor from Orange County to Mammoth Mountain, and everywhere in between. The route we've always taken up there may be the same but as more and more people discover the Eastern Sierra's, the Eastern Sierra Land Trust is working to hard to protect these natural lands and work towards a sustainable future.
If you've never been to the Eastern Sierra's, add it to your bucket list, we promise you won't be disappointed.
Summit Land Conservancy
The Summit Land Conservancy is based in Park City, UT, a special place our family's have been visiting and enjoying since the early 1970's. The Summit Land Conservancy works to promote and protect the delicate balance of a tourist/ski resort based economy while ensuring open spaces and traditional and historical rural economies can have continual viability and sustainability. Much has changed since they first started going back then, but the Summit Land Conservancy is doing what it can to protect and conserve the lands of Summit County for future generations.
Want to learn more? Check out https://www.eslt.org/about/ and https://wesaveland.org/